Done with these Sandals
Well Worn and Ready for Worship.
SOLD!  $70 to a shoe dirt licking weirdo who will remain anon.
Get on it.  Up for grabs,  my well worn sandals from Armani Exchange. I picked this cute little pair of white and pink flip flops up at the AX store in SoBe a few years ago. They had a good life under my perfect size five feet ever since — your turn. Send Amazon g/c to the email address along with shipping info and they're yours. (can also tribute via iWantclips – see tribute box in the sidebar of my blog.)
I don't have time to mess around with Ebanned auctions right now,  but I do have to clean out my closet. My shopping bot, stiffy has been doing a good job clearing My wishlist and now I'm running out of room. I have so much stuff.. it's like total first world life dilemma. I want this stuff out of my house because my guest room is starting to look like an episode of Hoarders. I can't stand clutter. Be a good foot boy and take these old sandals off my hands feet.
If you follow My Twitter (and I suggest you do that now) I post mostly all of my wishlist hauls there. I forget the tally, but stiffy is keeping track – I think he's passed the 100 gift marker for 2016 already. Good boy. I'll save that for another post. Right now we're discussing my adorable princess feet.
Also, these. My holey old slippers.
you need them in your life… because I decided. That's all that matters, right? Yes. I'm always right.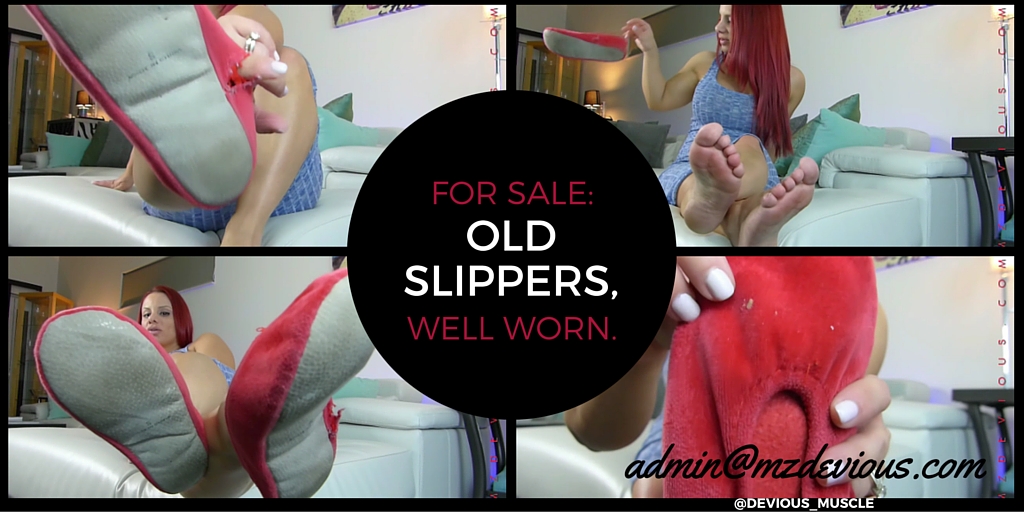 Lots of bites on them — but meh. Yew guysss, too many questions & pointless comments. They're slippers, they were on My feet. I offered them up at a cheap ass price $50 bucks..  to get rid of em. Not play twenty questions with tire-kickers or listen to nonsensical comments.  So if that's you.. no.
There's a clip with them
So for now, that's it. I have to get out to the mailbox place AGAIN. More gifts to pick up. you know how it goes. you pay, I play.
Oh and because My feet are your sex life. Duh.