Back from my Mini Vacation
I need a vacation from my vacation. Can anyone else relate to that feeling ? I love South Beach. I tend to stretch the most out of my time there.. wake at 8 am- go to bed at 5 am.  So after returning home Tuesday night, I crashed at 8pm and didn't wake up until 1 pm on Weds.
That is so not like me.
It's the music, the weather, the turquoise water, sun, shopping, art deco buildings, bright colors, culture and plenty of 24 hour everything  ( like pizza and frozen yogurt – which I scoffed up at 4 am without hesitation ) . I try to absorb the all-around good vibes while there. I keep looking for excuses to go back, and the fact that it's only a 135 mile drive from my house that makes it all the more easy to get up and go.  Add in that I  have accrued enough reward points with the hotel, that there's a free night waiting to be redeemed . No problemmo.
I'm not a big drinker, nor will you find me trashed, dancing on table tops, slurring " I fucking love youuuuuuuu … " to random passerby's  . Give me an energy drink with my (prescribed ) Adderall , some good music and a pack of smokes and a good time will be had . I'm a vacation smoker. I don't drink alcohol ( hate it ) so it gives me something to do . Adderall, when mixed with caffeine  totally makes you want to light up. And I hate cigarettes. I quit smoking back in 2007, and since , the smell of them makes me gag. Until I'm on some addy. Weird… but other people say it does the same to them too. Whatever. Could be worse.
Mr D is a sneaky little snake. Recording me the first day when I wasn't looking. I caught him and he said " oh I'm making a video for instagram" .. The second day I said to myself ," there's a sea of foot boy's and little pervert voyeurs that would give their left nut to spy on my vacation. So I'll make my own 'foot'age and add it to the other footage ,  and allow them the privilege "
Here's the clip – money slaves pay, while I play.
The life of a financial slave is never fair.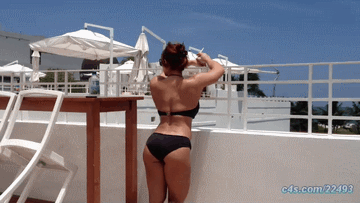 Bikini Voyeur
It's like you're on vacation with me in South Beach. Too bad that would never really happen, since you're not cool enough to attend a rooftop pool party. But you can pretend , since peering and perving on chicks in bikinis is more your speed. You pay, I play. ( BIKINI, VOYEUR, IGNORE, BAREFOOT, FINANCIAL DOMINATION )