Mz Devious Domme Dose writeup
Domme Interview by footboidon
How did You get into online domination and humiliation?
I'll spare you the typical domme story drivel.  I've always been a brat ( but do girls really steal lunch money from boys in kindergarten ? Such a lame cliche )  I was eating paste and pissing in my osk'kosh overalls . I'm a control freak and an only child which means I am used to having it all about me all of the time.
I worked as an exotic dancer and bartender for 9 years , so it's pretty safe to say I know men well. I've seen & heard it all. Everything I've ever needed to know about life and how to be an "answer-to-no-man" type women stems from that background . I've experienced  a multitude of  experiences with fetish, foot worship and financial domination. I started online over at Ebanned in early 2008.
I started to incorporate the female muscle into the mix in 2009, since I received comments about my physique so often I meshed it into my 'theme'. I've built my own brand of Bratty Muscle. I have seen muscular dommes  and I've seen brat girls — but never such a combination.  I love being unique. 

 Whats the funniest thing a sub of Yours has ever done for Your amusement?
 I had a pretty jacked, shredded somewhat attractive  bodybuilder sub on niteflirt  ,who was as well, a sissy. (s)he started taking estrogen to grow  "bitch tits" for me- then get drunk and  take big nasty dumps on the floor for my amusement. You know you are at the top of the totem pole of life when being paid to watch a huge male bodybuilder  emasculate himself and crap on the floor .

 You have quite a few clip stores. Where can a sub find them and which do You prefer?
  I'm all over the place. I don't have any special preferences. Ninety percent of my sales are made through clips4sale and find that most guys prefer clips4sale and clipvia most . At the end of the day,  it's all money in my pocket no matter where you buy my clips.
http://clips4sale.com/store/29200
http://www.musclegirlclips.com/index.php?page=profiles&id=662
 It's no secret Your into bodybuilding. What got You into it?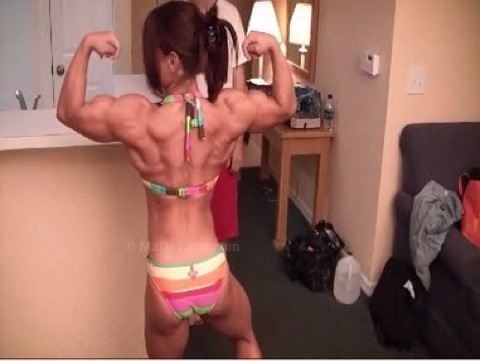 Women like to talk about being the superior & stronger of the sexes –  I prefer to say it and show it. Strength is power,   female muscle that's carried with grace and balance flows beautifully.
I'm very strong  despite my height.  Dudes at the gym see me coming ( I am only 4 foot 10 – 125 lbs ) and give me  doubting looks like " yeah okay girlie-girl .. you go-ahead and lift that 55lbs dumbbell……… so I push them aside, grab that 55 lb dumbbell  and curl it with a shit-eating-grin on my face.  It makes them feel so weak  to watch a girl half their height,  out-lift them.

 What are some of Your favorite fetishes?
 Foot fetish ( the gateway fetish)  and financial fetishes
 Where do You see Yourself five years from now?
Running shit.

Mz Devious Links
http://clips4sale.com/store/29200
http://www.niteflirt.com/MzDevious