Taking Sissy Sherri to New Levels
Last night sissy sherri and I had another Niteflirt phone session.  She tries hard to impress me.
First, sissy sherri pierced her bitch tits while on cam. Blood everywhere – yuck. It looked like a Civil War triage up at sherri's place.

Luckily, sherri is crafty and found a nearby clothespin to stave off the bleeding. then the ass whore locked her sad & small dicklette into it's cage, and was far too eager to showed me her gaping man-gina. Okaaayyy, I no longer am craving a Little Debbie snack cake.
But seriously sherri, wtf are you parking up your ass at night. It could easily be mistaken for the Holland Tunnel.
she effortlessly DP'd her bum-bum with 2 huge dildos.
boys in panties – that's so 2009. It's 2010  – sherri says " take a dump on the living room rug …like me!! "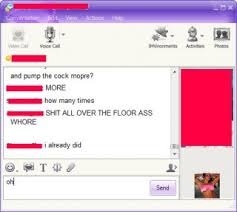 Um. she REALLY DID shit all over the floor. Thought sissy sherri was half joking – but nope.  But whatever, I was paid to watch this ass-clown – beats workin for the man right?
I'll be on Niteflirt this Friday , Saturday and Sunday night this week.
and no – I won't put on a doily and play cam-puppet for you. Remember – you are the entertainment.   You call me so that I can coo at your foolishness and make you feel more dumb than you already are.