Ass Worship Week
Ass Worship & Booty Clips
There seems to be an ass worship and butt fetish theme going on over at my c4s studio this week. Didn't plan it that way , but that's how it ended up. Guess I was feeling extra s'ass'y.
Well whatever it is – I have the number one ass worship clip over at clips4sale. Yay for me.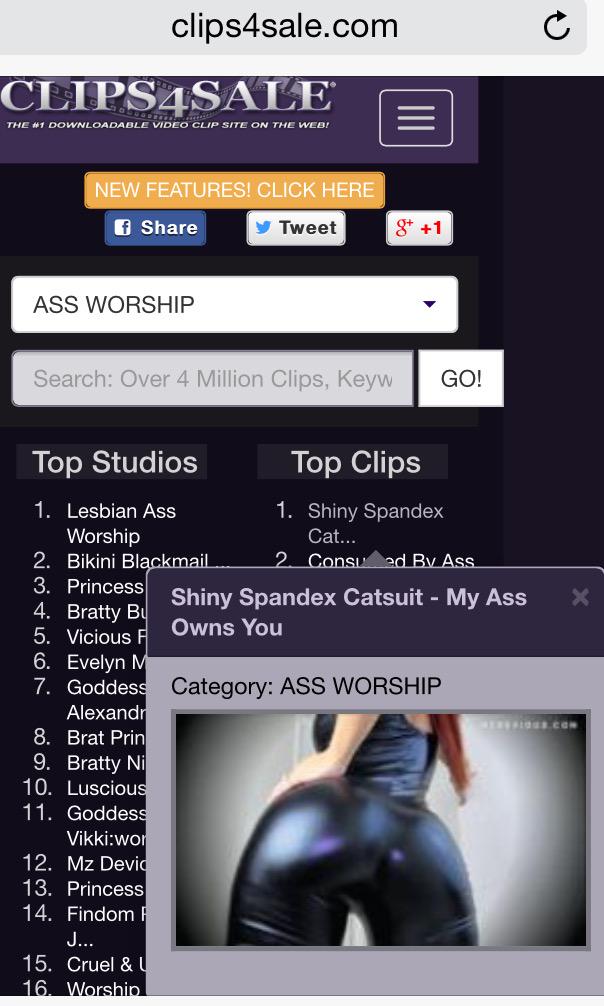 Shiny Spandex Catsuit – My Ass Owns you
Try to resist stroking to My hot body dressed in this shiny black catsuit. It's tight. There's no room for panties leaving the outline of my pussy right there.. in your face. This rubber look bodysuit looks like it's been shrink wrapped – accentuating my perfect bubble-butt, tiny waist and 34 DD tits. You probably already know how much I love to tease and fuck you up – I know what weakens you .. My hourglass figure dressed in shiny spandex.
SPANDEX, ASS WORSHIP, SHINY, CATSUIT, TEASE, BODYSUIT
your Face is My Toilet

You're not the type of guy who gets off on ass and ass alone. No, you crave more filth, humiliation and require the most degrading tasks. your warped fetish has brought you down to the lowest place on the totem pole of life – the human toilet – transforming your face into a receptacle for human waste. You know this is where you belong. How so? Because when you're in that role .. it feels so right. I'm here to ensure that you remain where you belong, stripping your freedom of choice – you serve Me and whomever else I feel you should serve .. like My man. Toilets are objects.. they do not think – they do. You are My object. Therefore you no longer have a human name. Your first assignment… ripping out the toilet in My master bathroom and planting yourself in it's place. I've decided to name you TOTO the human toilet.
Let's take it to the next level shall we? Learn what your "d00dies" will be when owned by both of Our superior asses.
TOILET SLAVERY, HUMILIATION, FEMDOM POV, FEMALE SUPREMACY,  ASS WORSHIP, HUMAN TOILET

you pay Me – yet I still don't want to pay attention to you. Nah.. instead you can just stare at my perfect ass while I tease you, sit over your face (POV style)  on my clear acrylic chair and ignore your dumb ass.
* clip doesn't have sound. Not like there's much I want to say to you. My middle finger and juicy booty in your face sums it up.
FUCK YOU. KISS MY ASS  & HAND OVER YOUR WALLET.
Destroyed by My Pantyhose Soles and Toes
What would happen once you've realized that My pantyhose covered toes and soles own you? … and how would it feel knowing that they control your mind and cock when you submit and worship My perfect feet in this pair of black sheer stockings? Perhaps you're wondering if something so sexy, yet simple as a pair of silky pantyhose could completely crack you. Destroy you. It's impossible for Me to answer that for you My little pantyhose slave — you'll have to find out for yourself, now won't you? Don't think… just submit and stroke to My silky sheer nylon covered legs and feet.
you know that you really shouldn't p!ss away your money on these clips – but you do. Why? Because you're a loser. I want you to take off all of your clothes. In my experience, I find that when you are naked, you are able to focus on My message. As you strip away the layers leaving yourself exposed and vulnerable, I'll reinforce the many reasons why you are a loser.
Hey did I mention that I have a video preview channel over at Vidme? Well now you know.
you're welcome.