Ebanned Again
I thought I'd give Ebanned another shot . I've taken some  time away — which seems to be a pattern with me lately huh ? I have my reasons.
I received a text last week from my friend, Sexy Fitness Girl, who's also a seller at ebanned . She suggested insisted I get my ass back over there ,because it's been too long .
I ransacked my closet and collected some treasures to offer to the panty and foot fetish pervs , then moseyed over to a place that used to be my FAVORITE fetish hangout and biggest money maker.
My favorite sandals auction
I guess you'll have to join the site to view and bid if you're not already a member.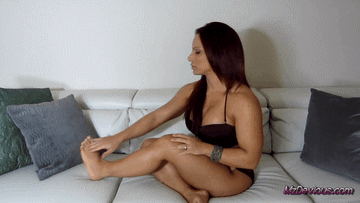 All Cracked Out
Cracking my knuckles and fingers, toes, ankles, and back while wearing a bikini.JOINT POPPING, KNUCKLE CRACKING, BONE CRACKING, STRETCHING , BIKINI , TOES