Sexy Flex is #7 at clips4sale's Top 50 Stores – holy crap!
Today I woke up and made some breakfast, sat at my computer just as I do every other day to check my emails and what-have-you.
But today I nearly choked on my raisin ezekial bread when I saw this.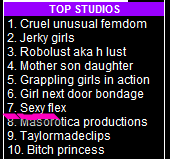 That just made my morning, heck .. it made my decade. To celebrate, Ive added a new clippty clip!
Princess Armwrestling Showdown
Having a blast here at the Jr Nationals, today's agenda – armwrestling one of my hot domme friends Princess Lyne. This is her first arm wrestling clip! Lyne has the looks and the body of a supermodel, but don't let that fool you – she is super- duper strong. We armwrestle and flex our biceps.. Lyne starts to get into it showing her gym progress. She's hooked on the competitive thrill, maybe next year we will set up an arm wrestling booth when I visit her again in Chi-town and take you guys down..one after another!