Ebanned Pantyhose Auction
Here's your chance to snag a pair of my worn pantyhose. Head on over to My Ebanned auction and plunk down a bid on them.
*auction ends April 8.
You don't have to be a member over at Ebanned to score some princess treasures such as worn socks, shoes, undies, bras etc…
prices start at $50 + $6 ( for shipping)  for one day wear items. I accept a few methods of pmnt ( NOT POOH-PAL ) .
Here's what a satisfied sock sniffer has to say: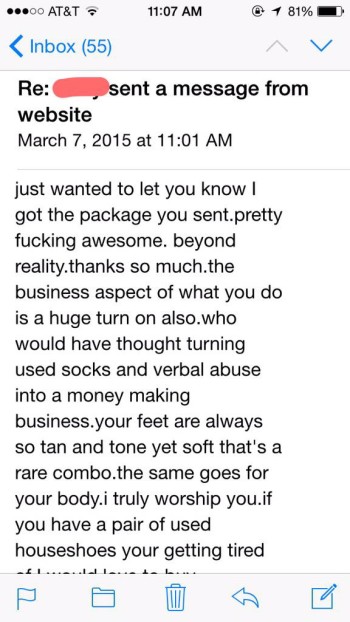 Can you imagine how much fun it must have been for that sock boy to open that package containing My dirty old gym socks?
Maybe you'll get to experience the bliss too one day .. just shoot me a message .
These are the same hose that I wore in My recent pantyhose fetish clip
Submit and Stroke to My Pantyhose
"First off, I'm not wearing panties under these silky sheer pantyhose that I am about to tease you with.
You want to please Me and be a good pantyhose slave don't you? Worship and submit to My feet, legs and ass – don't think – just obey, submit and stroke."
LEGS, STOCKINGS, SENSUAL DOMINATION, PANTYHOSE, FEMDOM
buy at Clips4Sale
buy at Clipvia
*auction screencap